Quality Control Department
Tests
Several tests are carried out in AL TAMAM laboratories to ensure the compliance of the products to quality standards :
Raw Material Test

Gelation Time
Bulk Density
Sieve analysis
Heat Stability

Final Product Test

Pressure test
Impact Test
Chemical Resistance Test(Sulphric Acid)
Heat revrersiontest(Shrikage)
Water Absorbtion Test
Resistance to environmental conditions
(Extrusion) Methylene chloride test
Tensile Strength test
Elongation at break test
HDT/VSP/ Vcat test
Opacity Test
A pressure test ids done to ensure pipes are manufactured according to Saudi standard (14/151996) (675/1997) Germen Standard 8061 and American Standard ASTM D1785 pressure varies depending on size and usage purpose.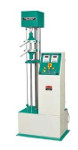 Impact test is subjecting pipes to a strikers weight, which is increased proportionately to pipe diameter.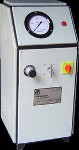 LAB Testing Facilities
We AL Tamam Factory for PVC Pipe and Fittings have our state-of-the-art-equipments installed at the laboratory which is driven by well qualified engineers since we view about high quality and advanced product range and believe in supplying only superior quality products,aimed at satisfying domestic and international customers.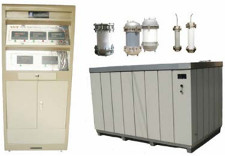 Technical & standards Data ATF U-PVS Pipes
SASO - Saudi Arabian Standards Organization

SASO 14 Pipes for Potable Water of Unplasticized Plastic (uPVC) SASO 15 Method of Testing of Pipes for Potable Water of Unplasticized Plastic (uPVC)
DIN-8061 & 8062 German Standard

ASTM - American Standards for Testing and Materials

ASTM D 256 Impact Resistance of Plastics and Electrical Insulating Materials ASTM Standards ASTM D-1785 for Schedules 40 & 80, ASTM D2241 (SDRS), ASTM F 441.

UL - Underwriters Laboratories Inc

UL 651 Schedule 40 and 80 PVC Conduits NEMA TC-2, TC-6 AND TC-8, ELECTRICAL PLATIC TUBING (EPT) AND CONDUIT (EPC-40 AND EPC-80)
Pressure-Temperature Relationship
AL TAMAM UPVC Pressure Pipes are offered in Socketed (Self Fit) & Rubber Ring Joint
AL-TAMAM business activities are focused on the development, manufacturing and distribution of plastic piping system. The product range complies to a host of international standards. We provide solutions for the complete water cycle, energy and power distribution, telecommunication networks and various industrial application. AL-TAMAM has been known for the quality, consistency & the growth that has been witnessed & vouched for by the industry.
Inherited from its group, AL-TAMAM strives for excellence, investment in technology and engineering, a genuine team spirit, clear objectives, ethical business practices and well defined goals.
uPVC Pressure Socket Fit Pipes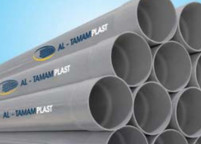 Applications
AL-TAMAM PVC pipes are multi purpose product with a wide range of applications in portable water Transportation Underground Pipelines for water supply lines, tube wells, also they are often applied as drain pipes in residential, cimmerical and industrial buildings.
uPVC Elastomeric (Ring Fit Pipes)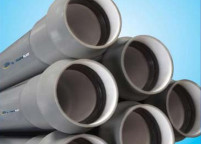 The Ring Fit Joining System
The following diagrams show the cross-section view of the Elastomeric pipe before assembly. When the pipes are pushed together the rubber field is compressed. The composition gives rise to a sealing pressure that acts on the socket and sigpot as shown in the illustration below.