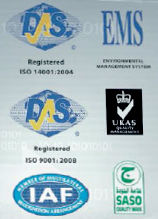 Al Tamam Modern Plastic Factory is one the leading manufactures of Conduit Pipes, uPVC Pipes, cPVC Pipes and HDPE Pipes in Saudi Arabia. It uses state of the art technologies to produce high quality pipes meeting international standards.

Endowed with highly trained technicians, experienced management and superlative infrastructure, we have set new milestones of success in recent times.

We manufacture our products in accordance with the Saudi Arabian Standards SSA 254/225 in addition to British Standard BS 6099 and American Standard ASTM D-1785 and DIN standards 8061 & 8062.

As a leader in the manufacturing of Polyvinyl Chloride (PVC) piping products, we are committed to exacting high standards and providing a total quality product to achieve complete customer satisfaction.