CPVC Pipes
Chlorinated Poly Vinyl Chloride (CPVC) is a thermoplastic produced by speciality blend chlorination of Poly Vinyl Chloride (PVC) resin, which is significantly more flexible and can withstand higher temperatures than standard PVC. Uses include hot and cold water delivery pipes, supply of edible fluids, industrial liquid handling and radiant floor heating applications.
Al Tamam Factory CPVC pipes are used in hot systems, where temperature degree could reach boiling levels as well as cold water distribution systems. It combines performance, durability and cost savings in addition to safety. Al Tamam uses CPVC compound according to American Standards ASFTM F441 and confirming to the highest Saudi Arabian Standards (SASO 1517/1999).
Features and Benefits
Suitable for use upto 93°C
No Scaling
Detain bacterial growth
Perfect for hot and cold water usage
Life span of more than 50 years
High impact strength and durability
Excellent resistance to chemicals
Smooth internal surface
Energy saving
Fire-resistant and self extinguishing
Light in weight
Easy to install
100% leak-proof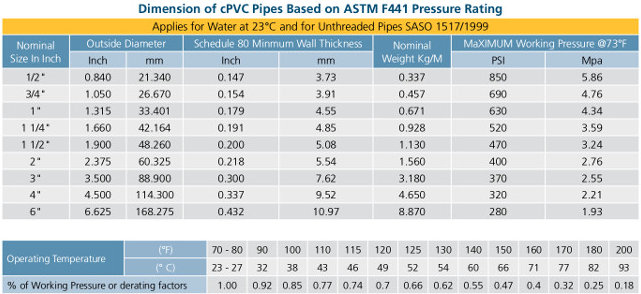 Applications
Hot and Cold water distribution in residential, commercial and industrial spaces.
Carrying potable water and edible fluids.
Transportation of chemical and other hot, corrosive fluids and Solar heating, central heating and radiant floor heating applications.
Material Date Properties of cPVC Pipes