PVC Pipes
Poly Vinyl Chloride (PVC) pipes are used in general domestic plumbing works. PVC Pipes offer a tremendous weight advantage over alternative piping materials. PVC Pipes are available with deep insertion, push-together gasketed or solvent cement joints. PVC pipes are non-toxic, frictionless, flame resistant and safe material that has been used for more than half a century.
Electrical Conduits
Outside Diameter
Wall Thickness
Light Grade
Heavy Grade
16 mm
1.2 mm
1.7 mm
20 mm
1.5 mm
1.8 mm
25 mm
1.6 mm
1.9 mm
32 mm
1.9 mm
2.3 mm
40 mm
2.0 mm
2.5 mm
50 mm
2.3 mm
3.2 mm
PVC Tubing and Conduit (based on NEMA TC2)
Perforated PVC Pipes
Al Tamam Plastic Perforated PVC Pipes are manufactured upon request depending on the size and class of the pipes. Below figures give a general configuration which may vary for each clients' requirements.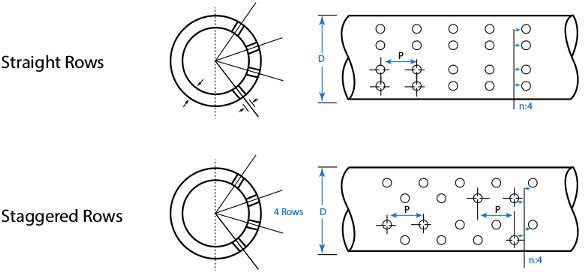 Range of Sizes
75 mm to 500 mm
Longitude Pitch of Holes (LP)
30 mm to 200 mm
Hole Diameter
05 mm to 13 mm
Number of Rows
1 to 6
Angular Pitch of Holes
40 degree for 3 or 4 rows
40, 80 or 120 degree for 2 rows
Slotted PVC Pipes
Al Tamam Plastic Slotted pipes are produced according to RDA requirements and for use in lowering the under-ground water table.
| | |
| --- | --- |
| Slot Length | Depends on pipe diameter |
| Slot Width | 1 mm, 1.1 mm, 1.5 mm, 2 mm |
| Number of Rows | 4, 6 or 8 (according to size) |

Al Tamam Plastic factory, one of the major manufacturers of the plastic products in the Kingdom of Saudi Arabia was established in 2010 to produce various kinds of plastic products. One of our main product is rigid PVC conduits according to American NEMA standard.

Material
Material of electrical plastic conduit pipe according to NEMA standard is made from rigid Polyvinyl Chloride (PVC). The plastic compound used in manufacturing is according to ASTM D 1784, and the color shall be gray color.

To assure and maintain high quality of products, Al Tamam Factory has a well-experienced quality control and strict production control system in the quality control laboratories using high technology tools to ensure the best and high quality products.

Unlike Metallic conduits, Al Tamam PVC conduits are totally resistant to corrosive fluids, wide range of acids, alkalin soil and all kinds of water. Rigid PVC conduits being a non conductor of electricity is an ideal media designed to suit for concrete encasement as well as for direct burial applications of power supply, telecommunications, street lighting and network distribution.